IDEA / CONCEPT
Il Berliner Schloss e gli Spazi Pubblici dell'Isola dei Musei di Berlino é un progetto fotografico che fa parte di una lunga documentazione del nuovo Castello di Berlino, edificio in fase di ricostruzione su progetto dell'Arch. Franco Stella. Il progetto del nuovo Castello é stato pensato sulla base dell'Antico Castello di Berlino, e l'idea principale é quella di recuperare l'impianto antico, ricostruendo la cupale, le facciate esterne ed interne com'erano state fatte nel progetto originale. Non si tratta comunque di una ricostruzione totale. Internamente e nella facciata sullo Spree il progetto propone dell forme nuove.I materiali, i prospetti, i dettagli etc sono frutto delle idee dell'Architetto Stella che ha modificato la distribuzione degli spazi pubblici dell'Isola dei Musei.
Il Palazzo antico aveva due corti principali, di grandi dimensioni. Erano le corti necessarie per un edificio di questo tipo, e con degli usi specifici per una famiglia reale. Nella ricostruzione pure l'uso dello Schloss é cambiato ed ha assunto un ruolo pubblico: sono previsti un museo, delle sale dell'universitá, degli spazi per la comunitá.
L'HUMBOLDT FORUM
Il nuovo progetto vede come elemento importante l'apertura dell'Humboldt Forum, una corte allungata ad uso pubblico che unisce il Lust Garden con la Breitestrasse. Si rompe pertanto la divisione che lo stesso Schloss generava nell'Isola dei Musei. Questo elemento di connessione aggiunge una relazione forte e visiva fra i vari edifici affacciati sulla piazza, come la Cattefrale o l'Altes Museum.
L'AGORÁ e la SCHLOSSPLATZ
Grazie all'apertura del Forum si facilita una diversa fruizione degli spazi interni del Castello. Il progetto vede altre due corti: l'Agorá e la Schloss Platz, la prima coperta e la seconda aperta. Si tratta di due spazi di nuovo aperti al pubblico ed alla quale si puó accedere attraversando i prospetti laterali diafani del Forum. Con queste due corti si rafforza l'asse longitudinale del Palazzo.
IL PROGETTO FOTOGRAFICO
L'idea di ricerca fotografica si concentra sugli spazi pubblici, nuovi ed antichi attorno al Berliner Schloss. L'intenzione é di creare due sequenze di immagini in cui si creano relazioni fra di loro. La prima sequenza di segue l'asse longitudinale del castello, fra l'Agorá, l'Humboldtforum e la SchlossPlatz. La seconda segue l'asse del Forum, unendolo con la Breitestrasse e con il LustGarten. Si intendo cosí narrare dei nuovi rapporti di spazi, che implementano gli esistenti. Di cosa vivono questi spazi pubblici? Un elemento importante sono gli edifici che vi ci affacciano, come l'Altes Museum, la Cattedrale ed ovviamente il nuovo Schloss. La proposta di ricostruire le facciate esterne e la cupola secondo il loro aspetto originario é stata criticata da cittadini ed architetti. Questo progetto, pur astenendosi da un giudizio a riguardo, intende osservare anche l'impatto del Castello con l'intorno urbano
IL PROGETTO FOTOGRAFICO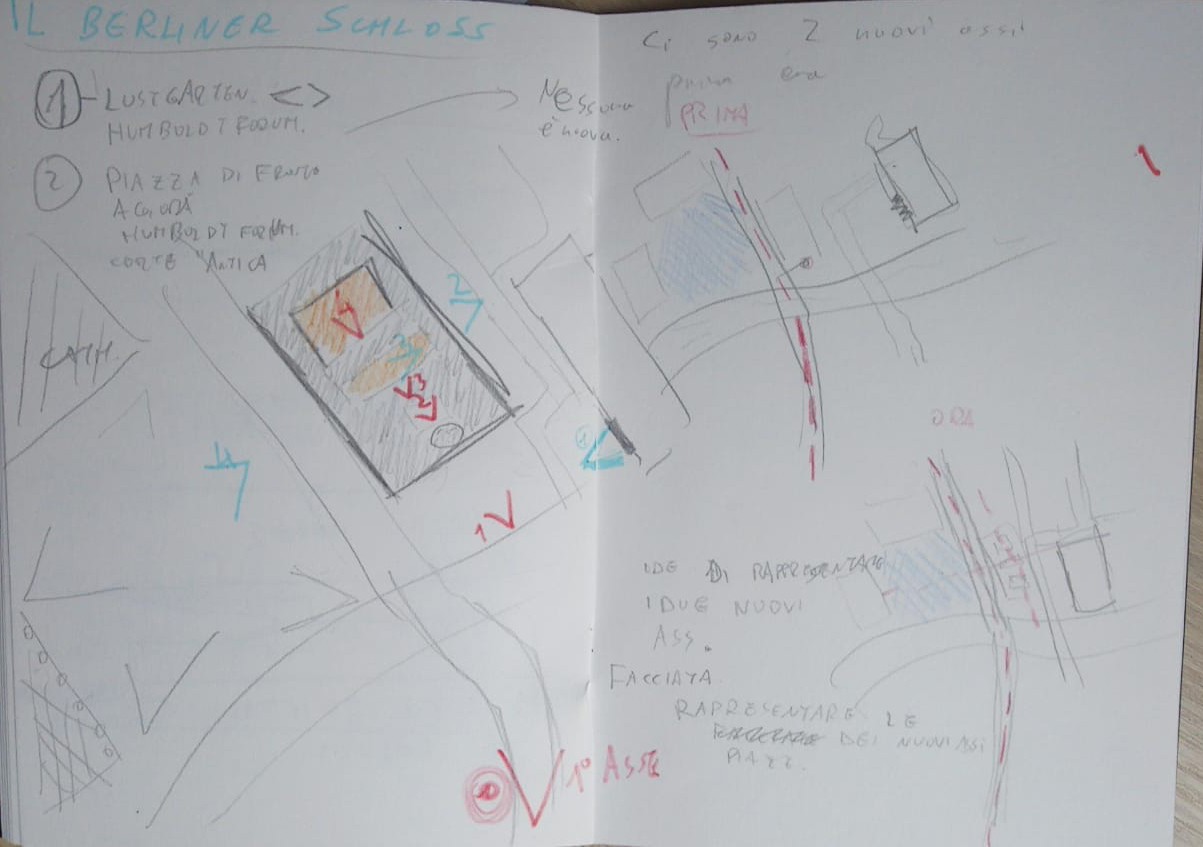 FOLLOW UP OF THE BERLINER SCHLOSS WORKING SITE - Different phases
FROM CASTLE TO CASTLE
Architectures in Berlin between the Bellevue Castle and the Berliner Schloss
The status of the things, 2018/19
Full project here
SIGNALS, RESONATING REVOLUTIONS
Photos of the performance of the Artist Artúr Van Baalen, for the 100 anniversay of the Weimar Republic.
2018
|nf|n|te
The globalized City-Front, 2015/17
BIO / CV

Based in Berlin, specialized Architecture, Landscapes & Interior Design.
Born in 1980 in Vicenza, Italy.
Graduated in 2006 in Architecture university IUAV of Venice (Italy).
In 2009 began working as a freelance photographer between Italy, Germany and Spain, specializing in Architecture Photography with a workshop at the FORMA school of Milan (Italy).
Selected Clients / Collaborations
Studio Tomás Saraceno, Architect Franco Stella, TArchitect Muck Petzet, German Pavilion for the Venice Biennale, ransmediale, Artist Katja Novitwskowa, Wallpaper City Guide, Architect Sam Chermayeff, Haward Design Magazine, Polityka Magazine PL, De Morgen Magazine BE, Photofoyer Agency, Architect F.G. Schmid, Artist Artúr Van Baalen, Dylunio Constructions, Architect J. R. Duralde, Musei Civici di Vicenza, Airbnb, Houzz.de, Luxury Retreats, Veasyt.com, TinnappelMetz Retail, Comune di Camisano Vicentino, NALA Interiors, Living Magazine, Onformative Video Artists, RRC Studio Magazine, Architect, Bottega Veneta, CafeArchitettura, Hines Constructions Spain, Archdaily, and many others.
PROJECTS ALREADY PHOTOGRAPHED
NEXT PROJECTS
THESE PROJECTS WILL BE PHOTOGRAPHED SOON